Reebok V 6.80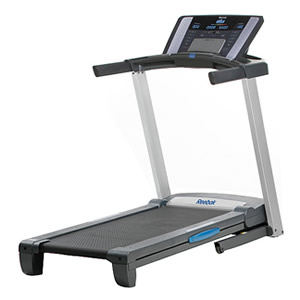 Overview
UPDATE: This is an older model and no longer available. Click on the See Best Price button to the right to see all of the latest models on sale currently.
————
The Reebok V 6.80 is one of Reebok's latest models. It has its advantages that many users and reviewers find impressive. But let's check out the pros and cons of this machine. And in the end, go to Conclusions to have a clear idea on what this model is all about.
Specifications
Click Specifications to see detailed model info
Speed : up to 10 mph
Incline : up to 10% Same as speed, there are 10 quick buttons available for incline change.
Motor : 2.8 CHP Mach Z
Belt : 20 x 55 inches/ 50 x 139 cm
Maximum User Weight : 300 lbs/ 136 kg
Total Unit Weight : 193 lbs/ 88 kg
Unit Dimensions : 73 inches Length x 36 Width x 63 Height/ 185 cm L x 91 cm W x 160 cm H
Warranty : lifetime for frame, 25 years for motor, 1 year for parts and 1 year for labor
Features
Display info
The V 6.80 has some interesting display features. There is the Matrix that displays a 1/ 4 mile track where your current segment is highlighted. Then, there is the Time display that gives you the elapsed time. The Distance display shows the walked/ run distance.
The Weight Loss Workout Center display shows the approximate number of burned calories, incline, heart rate and weight. The Custom Workout Center Display shows the speed of the walking belt. When you want to reset the displays, just press Stop, remove key and reinsert key.
Heart Rate Readings
You can either use the handgrip sensors to monitor your heart rate or the hands free chest pulse sensor that you buy separately.
Workouts
This unit gathers 12 preset workouts of which three aerobic workouts, three performance workouts and six weight loss workouts.
Optionally the console incorporates an iFit slot that accepts iFit interactive workout cards which you can use to diversify your training schemes. Don't forget that iFit cards are purchased separately.
For a preset workout, press the Aerobic workouts button or the Performance workouts button until you reach the one you're looking for. Press Start or the increase Speed button. During the workout, the display will show your progress. The illuminated segment represents your current workout stage. You can alter speed and incline with the touch of the Speed/ Incline buttons.
To use the Custom Workout Center, press Select Profile increase button. Select the profile you want by pressing Select Profile increase/ decrease buttons. Then press Enter. Select your duration by pressing Set Time increase/ decrease buttons. Press Enter and then do the same for Speed settings by pressing the Speed buttons. Press Start and hit it off. You can change incline and speed whenever you feel like it during your workout.
To use the Weight Loss Workout Center, hit the 250 Cals, 300 Cals, 350 Cals, 400 Cals, 500 Cals or 600 Cals button. After you've made your selection, the display will give you the approximate no of calories you're about to burn and also duration and maximum speed of your workout. Start the workout and follow results on the console.
Folding options
included
The machine weighs little so the process to fold it is easy.
iFit Cards Compatibility
Optional
This unit comes with an iFit slot that you can use to make workout more interesting and interactive. The iFit cards must be purchased separately. They are pretty good and challenging.
Sound System
iPOD compatible
The V 6.80 includes a pair of decent speakers. There are 2 buttons for up/down volume control on the console.
You can plug in your iPod, MP3 player or CD player and just enjoy your favorite tunes.
Information Mode
Conclusions
Honestly, the Reebok V 6.80 is a model that we do not recommend. Not only it has serious flaws, but there are other Reebok models better than this one and for an equal or lower price. But let's bone up on the pros and cons of this unit.
Every detail on this model is targeted for those interested only in light jogging and walking.
Firstly, the 2.8 CHP motor is below the target of a decent home gym machine.
The incline and speed values may be decent, but the entire model lacks performance a runner would expect especially because of the motor.
On the other hand, an advantage is the Custom Workout Center. Basically, you win control over your workouts. You set your own time and speed and other details as well. From our point of view, the machine was made to be compatible with this workouts. Still, there is a downside.The number of calories are calculated based on a general algorithm. It doesn't consider the personal information of each individual.
You have the iFit slot for the iFit cards that, remember, you purchase separately. This is an excellent option and we strongly recommend it. Unfortunately the extra costs involved in adding this option are not that attractive for all treadmill users.
Of course, you can plug in your iPod or MP3 player or CD player or whichever player you have. Which is great, especially when the you need motivation to keep training on a treadmill. This is not mandatory, but nice to have.
The display is really nice. The info is really easy to read and controls are at hand.
Still, you have no fan to cool off, which is something you may find inconvenient.
Moreover, the warranty is not satisfactory. A package like lifetime for frame, 25 years for motor, 1 year for parts and 1 year for labor basically denotes you take a risk with this purchase. On the other hand, we admit we tested more expensive models with the same warranty. If you compare this option to those more expensive based on their warranty, Reebok V6.80 doesn't seem that bad.
Compared to this model, there are other Reebok units that really rise up to a serious athlete's expectations. Such as the Reebok S 9.80. A more powerful motor, a larger incline range, a more generous maximum user weight and a much more convenient warranty. And last but not least, an equal or even lower price than the cost of the V 6.80, $700.
All in all, don't go for the V 6.80 when there are other models that you may find more appealing, durable and of high-quality.