PaceMaster Gold Elite VR
Overview
UPDATE: PaceMaster has been out of business for several years now. For a comparable machine check out our Best Buy Treadmills in all price categories.
———
The Gold Elite VR ($2499 at PaceMaster) is a quality, functional and generous treadmill. Not to forget, aesthetic. With a powerful motor, a killer cushioning system, tons of workouts and accurate feedback, this unit sets the scene for your wildest runner's dreams. It has a twin version that folds, the Fold-Up VR , equally awesome.
But when it comes down to cost, you may want to think twice before any purchase. Read on for a more detailed review of this model.
Specifications
Click Specifications to see detailed model info
Speed : up to 12 mph
Incline : up to 15%
Motor : 3 hp Continuous Duty
Belt : 20 "x 60 "/ 51 cm x 152 cm
Cushion System : TriFlex
Folding Options : available on the Gold Elite Fold-Up VR
User Weight : 350 lbs/ 159 kg
Unit Dimensions : 73.5 "L x 28" W x 57 "H/ 187 cm L x 71 W x 144 cm H
Unit weight : 205 lbs/ 93 kg
Warranty : lifetime for frame, 12 years for motor, 5 years for parts and 1 year for labor
Features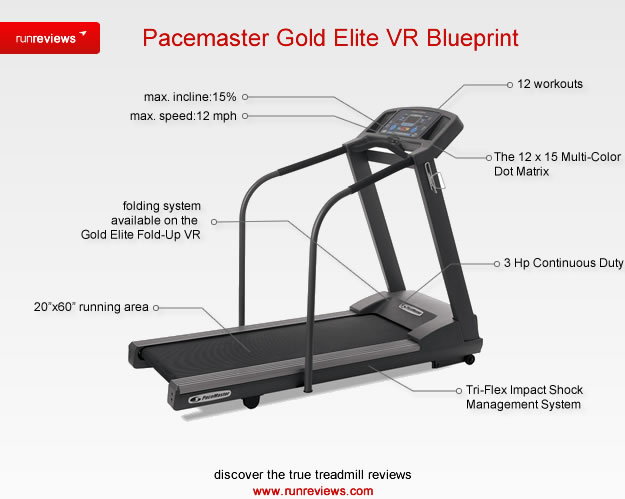 Display info
The 12 x 15 Multi-Color Dot Matrix keeps you motivated with detailed feedback on time, speed, distance, incline, calories, aerobic points, heart rate, heart rate zone, average speed and pace.
You can set your weight, age, max incline, maximum speed, warm up and cool down.
Express Keys helps you adjust incline and speed faster than the conventional continuous pressing. Just press these buttons and then the numbered buttons 0-9 to make the changes. You can set the intensity from level 1 to 9.
Heart rate readings
Check out your heart rate with the wireless chest strap.
Workouts
First off, remember there are 4 users that can use this treadmill and they all have the ability to use the results from the last seven workouts.
There are 3 program options: Quick Start, Manual and Calorie Coach. You can choose from up to 9 levels of intensity for each of these programs: Thigh Shaper, Glute Toner, Waist Reducer, Hill Intervals, Speed Intervals and Mixed Intervals. For Heart Rate workouts, you can choose Heart Zone Monitor, Target HRC, Fat Burn Zone HRC, Cardio Zone and Interval HRC. There are 3 custom programs available and 4 Virtual Reality Courses: Lombard Street, Steeple Chase, Appalachian Trail and Summit Climb.
At the end, you get a Fitness Evaluation. It will be based on a structure from Very Poor to Superior.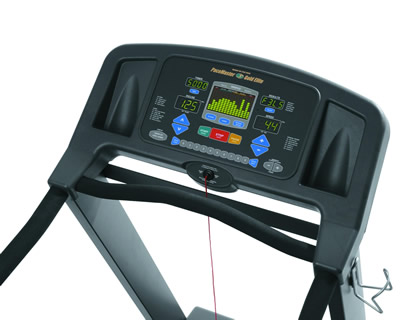 When any cardio workout is done, you receive the HR performance review. This is a graphic representation of your heart rate throughout your workout. This graphic is displayed during the summary mode. But you must spend more than 10% of your total workout time in any zone to get this review.
You can access 6 Personal Trainer programs, 3 Interval programs and 3 Custom programs.
Of course, you can record a custom workout as your work out.
Stereo Sound System
Fan
Express Speed Keys
Automatic Warm-up and Cool-down
Wireless Chest Strap
Conclusions
The PaceMaster Gold Elite VR is by far a good treadmill. The quality, functionality and tons of workouts offset the drawbacks of cheaper PaceMaster treadmills. But as everything else in this life, it all comes for a price.
Pros
First, let's rewind. The Gold Elite VR and Gold Elite Fold-up VR are the same thing, only the Fold-up version, well, folds. Folding options are always a catch, especially when the treadmill does it on its own. The Gold Elite Fold-up VR does it successfully, but only if you afford to pay the extra $400. Sounds like a big deal, but it can keep you far away from spinal injuries.
The Gold Elite VR beats the quality and functionality of many other treadmills in the same price range.
Intensity is guaranteed by the powerful motor. Not only is it powerful, but also sturdy and moreover, it doesn't entail the annoying squeeze of most powerful treadmills. We are avid runners, so you see, we like to push the limits really hard. And we did. Not only we got intense workout, but we were as good as new once the workout was over.
We do like to push it hard on the running belt, but we also like to be safe while doing it. The cushion system relieved any worries we might have had. We are as good as new every time we get off this treadmill.
The running surface is more than enough for every beginner or professional runner to do his thing. Not only is it wide and long above average, but also the medium density fireboard with phenolic surface will extend the deck's life.
It's been a while since I saw so many workouts into one single console. Not only the workout range is impressively wide, but you also get to choose from 9 intensity levels. Care to customize your perfect workout? Knock yourself out with up to 3 customizable workouts. We have, and not only it's been fun, but also we got just what we needed. If there are more of you who want to try this console out, worry not. Up to 4 users can benefit from this machine.
If you're into fat burn training, rest assured you'll get just the workout you need, because you get to enter your weight and age. So you see, not only you'll be shedding the extra pounds consistently, but also you'll get accurate feedback.
Main Attractions
This treadmill proved its capacity even from the start, but the Express buttons are the cherry on the cake. Not having to tediously press speed and incline buttons every time you want to alter the values is bliss for any avid runner. With Express buttons, speed and incline adjustments are 1 press away.
If you don't do well in the motivation chapter, the Personal Trainer may come in handy. And not for only 1 workout, but for 6 of them.
At the end of the workout, you get a fitness evaluation. It may be just words to you, but believe you me, evaluation is like a teacher telling you you're doing fine, you only have to push it a little bit more.
Drawbacks
This treadmill may make a hole in your pocket, unless you have $2500 as spare change. Still, when it comes to treadmills, it's recommended to buy a quality unit for some extra dollars than to settle for a cheaper one that may break sooner than you think. Sure, you'll buy another one, probably as cheap as the one that just broke. What about using all the money for a quality machine from the start?
Although, truth being said, you may find a treadmill as good as this one, with a lifetime motor warranty.
To conclude, the Gold Elite VR is a good, nice-looking treadmill that can make you reach your wildest runner's dreams. But only if you can shed the extra bucks.