NordicTrack T7.0 2012 (Discontinued)
Overview
UPDATE: This model is no longer available. You can read our newest NordicTrack reviews here to see all of the latest models available.
The T7.0 from NordicTrack is a new 2012 appearance, but not just any kind. It's the top treadmill in the affordable Fit Series. The T7.0 is the upgraded version of A2250 Pro. The small motor and the short deck are replaced with generous specifications that enhance the workout experience.
Care to learn more about the new T7.0? Follow us next for a specific review on this treadmill and go to Conclusions for a wider look over this treadmill.
Specifications
Click Specifications to see detailed model info
Speed : up to 12 mph 1-touch
Incline : up to 12% 1-touch
Motor : 2.75 CHP Commercial motor
Belt : 20″ x 58″/ 51 cm x 147 cm
Cushioning System : DUALFLEX
Folding Option : Spacesaver design
Maximum User Weight : 350 lbs/ 159 kg
Unit Dimensions : Length: 72" (183 cm) ,Width: 34" (86 cm)
Warranty : lifetime for frame and motor, 2 years for parts and 1 year for labor.
Features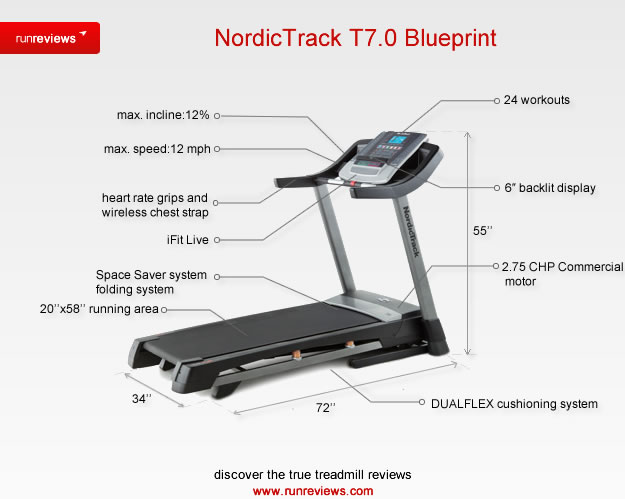 Display Info
The 6″ backlit display keeps track of elapsed time, distance, intensity, approx no of burned calories, incline, no of vertical feet, speed, heart rate. The matrix offers several display tabs which you can select by pressing Increase/ Decrease button next to Enter.
The My Trail tab shows a track that represents ¼ mile. You can track your performance by following the white rectangle.
1 touch speed and incline buttons are available for quick settings.
Heart Rate Info
There are two options for you to check your heart rate, by either using the handgrips or the compatible wireless chest strap that you have to purchase separately.
Workouts
The 2012 T7.0 is packed with 24 built-on workouts, of which 6 calorie workouts, 6 incline workouts, 6 intensity and 6 speed workouts.
In order to use one of these workouts, first press Calorie, Incline, Intensity or Speed button repeatedly. Once you select the workout, the displays offer info on duration, distance and name of the workout. For calorie workouts, the console displays the approx no of calorie you are about to burn. Press Start or Speed increase to start the workout.
The 7.0 also features iFit compatibility, which you can use by purchasing the iFit Live module separately. You insert the key into the console and the iFit Live module into the console. Select a user and an iFit Live workout. Note that you have to queue a selection of workouts to choose from. Press Start.
Information Mode
This mode keeps track of treadmill's information and allows users to personalize the console. To select it, hold down Stop while inserting the key into the console and then release Stop.
Stereo Sound System with iPod Compatibility-
Coolaire Workout Fan
Racetrack Display
Conclusions
If treadmills were dating, the T7.0 model would definitely be a catch for a jogger. It's got the whole package: great construction, some nice attractive features and an easy-to-use console. But since nothing is ever perfect, the 7.0 has its own share of cons. It depends on you whether you can get passed them or not.
Pros
First of all, if you're a jogger or a walker, you should stick throughout this Conclusions section. If not, you may find something else to satisfy your needs. The motor is powerful enough to sustain walking and jogging, but that's about it. Of course, let's not forget about the price range, $800. For this cash and given the warranty, we may as well consider this treadmill one of the best.
The running surface accommodates a wide range of users, but not the tallest ones. They may have a longer stride than what this treadmill has to offer.
When it comes to workouts, you should have no worries as there are many workouts that allow you to change incline and speed. Basically, you can go as fast and as high as you want while working out and moreover, you can do it fast. 1-touch buttons help you alter values in no time.
iPod enthusiasts will be happy to hear they can plug in their device and enjoy a high quality sound, that we also enjoy from time to time.
A workout fan is your friend indeed whenever you're in need. And when you're done, you just fold it and put it somewhere it's no inconvenience.
Main Attraction
Although in today's treadmill world, iFit is no longer the rising star, we still find it by far exciting. Being able to run around the world is not something you get to do every day, unless you have an iFit model. Add the personalized workouts and the workout tracking and there you have it, an enhanced workout experience.
Drawbacks
Sorry for bursting the bubble, but you do have to purchase the iFit Live module separately. Also, you have to pay the extra buck for the wireless chest strap.
Additionally, the cushioning system turned out to be a bit bouncier than the ordinary road. We didn't appreciate it too much, which is why we're double thinking our purchase.
If you put it all together, you may see that the 7.0 is a notable appearance for 2012. Still, it has its disadvantages which may determine you to reconsider your purchase.