Bowflex Max Trainer M6 Review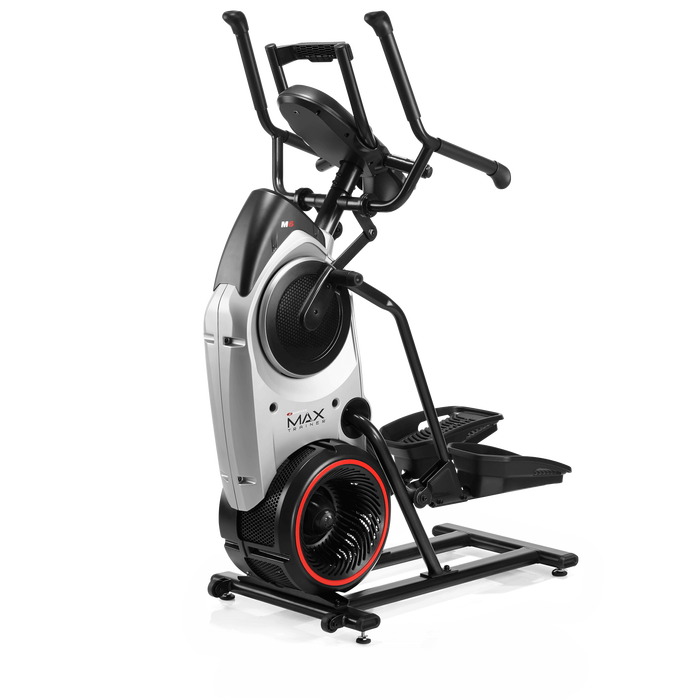 Overview
The Bowflex Max Trainer M6 is a relatively new cardio machine, recently replacing the enormously popular M5 that has been a huge seller for the company for many years.
It is a low impact hybrid, combining an elliptical and a stepper in one, allowing you to burn a lot of calories in a short amount of time.
For those who prefer to walk rather than run a treadmill, the M6 is a very good option. And now with the new Max Intelligence App, the only real difference between the M6 and the M5, you can take your training to the next level.
Let's get into our M6 review to see what it's all about and if it's worth considering for your home gym…
Specifications
Click Specifications to see detailed model info
Resistance Levels : up to 16
Workout Programs : 9 (Intervals, Calorie, Stairs, Fitness, Manual)
Display : Blue Backlit With Burn Rate Meter
Heart Rate Reading : Contact and Wireless
Dimensions : 46.1" L x 25" W x 62.9" H
Tracking Ability : Max Intelligence App
Maximum User Weight : 300 lbs.
Warranty : 2 years
Bowflex Max Trainer M6 - Best Features
Fast / Effective Workouts
One of the most talked about features of the new M6 and the rest of the Max Trainers is the fact that you can burn a lot of calories in a relatively short amount of time.
The M6 offers a number of HIIT, or high intensity interval training workouts, which are a series of strenuous movements followed by periods of rest, and back up to strenuous, back to rest, for a really effective cardio burn.
What's unique about the new M6 is even if you have just 4 minutes, there's a specialized workout just for you. This is great for those that are really strapped for time but want to get a quick workout in.
New Max Intelligence Platform
As we mentioned, the Max Intelligence app is the main difference between the previous Max Trainer M5 and the new M6.
This is a whole new interactive, subscription based experience similar to NordicTrack's iFit. It features on demand trainer led workouts, tracking capability, goals and achievements, Run Social maps and a whole lot more, helping you maximize the results you get from your training.
You can use your tablet to access the Max Intelligence app, and it allows up to two user profiles.
Burn Rate Calorie Display
The Burn Rate Display on the Max Trainer M6 is an indicator of your calorie burn per minute, and it shows you what range you are currently in: Fat Burn, Endurance or Performance, so you know exactly how hard you are training.
It also sets goals for you based on your inputs and fitness level so you can work towards hitting set amounts of calories during your workout.
Compact Design
The M6 is about half the length of a traditional elliptical machine or treadmill, at around 46″ total.
As such it is ideal for those with smaller workout areas and gives you the ability to fit an additional piece of equipment in your home gym, which is a big bonus.
It's also relatively light weight, so it's easy to move from one end of your gym floor to the other if you choose to make any layout changes.
Nice Amount of Resistance Levels
With the M6 you get up to 16 resistance levels, double the amount found on the base M3 Max Trainer, and 4 less than on the top of the line M8.
That gives you plenty of options as far as ramping up your manual training.
We recommend you start with one of the lower levels and working your way up. If you start too high early on you might find it a bit too challenging. But over time as you get into shape you should be able to handle most if not all of the resistance levels.
Other Great Features
The Max Trainer M6 comes with heart rate grips, water bottle holder, media/tablet shelf, upgraded handles an AC adaptor, USB charging port and large easy to read console.
Bowflex Max Trainer M6 - Drawbacks
Not the Strongest Warranty
Although the Bowflex Max Trainer M6 has a lot of unique features and plenty of workouts, it's not backed by the strongest warranty we've come across.
You get only 2 years on the frame and parts and 90 days labor. However, most users have been more than happy with the quality of the machine so this may be a non issue for you.
Bowflex Max Trainer M6 Review - Conclusion
If you're looking for something a bit different than the traditional treadmill or elliptical, the Bowflex Max Trainer M6 might just be the cardio machine for you.
It's compact in size, offers an effective calorie-burning, low impact workout, has plenty of built in programs plus the new Max Intelligence platform offers endless possibilities for you.
If you want to save a little money take a look at the entry level M3, although that model does not have the Max Intelligence app.
And if you want something a bit more advanced, consider the top of the line M8 Max Trainer with additional resistance levels, more user profiles and upgraded design and touches.