The Daytona IWM treadmill
is a new 2012 model designed by Yowza. It combines advanced functionality with superior technology that definitely makes the difference in the world of treadmills. All these features are available for $2,000. Follow us next for a wide description of Daytona.
When you're done, jump to Conclusions for a final, broader overview.
Specifications
Speed: up to 11 mph/ 18 kph
Incline: up to 12%
Motor: 3 HP, Continuous Duty
Belt: 20″ x 60″/ 51cm x 152cm
The belt is reversible and no maintenance is required.
Cushioning System: Swing Arm with Progressive shock absorption deck
Folding Options: not included
Maximum User Weight: 350 lbs/ 159 kg
Unit Dimensions: 83″ L x 35″ W x 58″ H/ 210cm L x 89cm W x 147cm H
Unit Weight: 249 lbs/ 113 kg
Warranty: lifetime for frame and motor, 5 years for parts & electronics, 2 years for in-home labor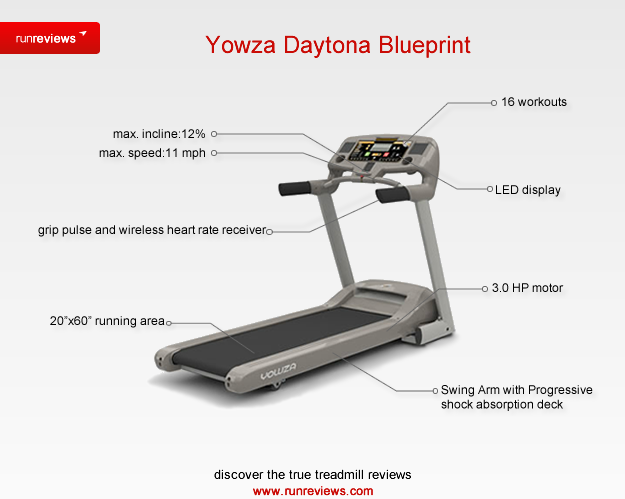 Features
Display Info
The large LED display offers feedback on speed, incline, time, distance, heart rate, intensity. There are 9 different user memory slots that can record user's age, weight and fitness level.
The console offers easy access through the following buttons: Express Incline Buttons, Express Speed Buttons, Incline % Up/ Down, iPod volume Up/ Down, IWM system and a Fitness Test button.
If you choose one of the three Custom programs, follow the instructions to press the Custom save button so that you save the workout for later use.
Heart Rate Info:  You can read your heart rate info while wearing the wireless chest belt or you can use the hand grips.
Wireless Heart Rate Transmitter: included
Workouts:
Daytona comes with:
- 3 target programs, Time, Speed and Distance,
- 3 preset programs with 12 levels of intensity each,
- Speed interval program with 12 levels of intensity,
- Weight loss program that adjusts speed, incline and offers 12 different intensity levels,
- Intelligent Workout Management or IWM, which is a computer generated program that determines the workout program necessary for the user to maintain the ideal weight,
- 5K running or walking LEARN program,
- Heart Rate Control programs,
- Fitness Test and
- 3 sets of user Data Memory slots which can be used to create and store the user's favorite routines.
When you want to select one of the User programs, you must select the User Code first. In order to do that, you must press Up/ Down to select the User code from U1 to U7. You'll be able to see it in the Speed display. Press Enter to confirm.
After setting the User weight, you will set User ID when the U1 starts blinking. Press Up/ Down to choose your ID.  Users will set Gender, Age, Height and then will choose the desired program.
Hi Fidelity speakers with iPod dock included- included
Fan (with 3 speeds) – included
Water Bottle Holders (2)- included
Transport Wheels- included
Conclusions
2012 seems to be a prolific year in the wide world of treadmills. By now, we've listed a few fine treadmills that will make the world go round, and here is one more to add to the bucket list. Yowza Daytona is a treadmill that we simply love. Its innovative technology definitely takes weight loss one step further. And it also has a few other goodies that instantly caught our eye. Here is why we are not sorry about it.
Pros
Let's begin with the beginning. The heart of the treadmill, the motor, is not only powerful, but also surprisingly quiet given what it can do for you. It also features a precision balanced flywheel that ensures a smooth functionality of the belt.
We can't be talking about motors, without talking about cushioning. I know no runner who's not concerned about impact on knees, joints, hips and so on.  We're only talking about our own experience, but let me tell you this Swing Arm cushioning is crazy efficient. It offers 100% protection throughout your entire workout and releases you from all of your injury concerns.
Whether beginner or advanced, the Daytona has the ability to enhance your workout experience and take it forward. OK, don't let me talk on your behalf, just try it on and see for yourself. We're surely happy with what we're stuck with.
iPod enthusiasts will be happy to know they will be able to listen to their favorite tune while running their heart out. Except the "running their heart out" part. Add the quality speakers and there you have it, cool entertainment with no compromise.
Oh yeah, and there is also a 3 speed fan for you to use when you feel you just can't go on anymore. A decent warranty guarantees a prolonged usage of this unit.
Main Attraction
Of course, we are talking about the hardcore IWM or Intelligent Weight Management system. What it does is to use your age, weight and fitness level to deliver you the workout that best matches your needs. Any weight fluctuation will be immediately identified and the system will alter your workout accordingly. So yeah, can't lie anymore about those candies you've been eating in secrecy.
Big families will get as much as 9 different user profiles. Each user can record his/her routines and use them later on. Quite a deal, I'd say.
Drawbacks
But despite all these very convincing details, you can't fold the treadmill. But then again, how could you fold a powerful unit like this one?
If you're not convinced yet, you just have to try it once. I'm sure it will get better than this in treadmill time, but for now, the Yowza Daytona is one of the leading models of 2011, and all for $2000. Sure, it's never easy to spend this amount of money at once, but if you're looking for performance, you may as well make the investment and not look back.
Click here for the treadmill's official page at Yowza.